ARYAN CHEMICALS PRESENT THE MAGIC DONE BY THEIR PRODUCTS
From Simple Drinking Water to Mango Juices like Maaza, Real, Slice, Frooti Etc. – Aryan Chemicals Magic Color Tartrazine (E-102) (Color Index Number – 19140)
Usage of ARYACOL BRAND Tartrazine
confections, cereals, snack foods, beverages, condiments, baked goods, powdered mixes, gelatin products, icings, jellies, spices, dressings, sauces, and yogurt.
Desserts and confectionery: ice cream, ice pops, and popsicles, confectionery and hard candy (such as gummy bears, Peeps marshmallow treats, etc.), cotton candy, instant puddings and gelatin (such as Jell-O), cake mixes, pastries (such as Pillsbury pastries), custard powder, marzipan, biscuits, and cookies.
Beverages: soft drinks (such as Mountain Dew), energy and sports drinks, powdered drink mixes (such as Kool-Aid), fruit cordials, and flavored/mixed alcoholic beverages.
Snacks: flavored corn chips (such as Doritos, nachos, etc.), chewing gum, popcorn (both microwave and cinema-popped), and potato chips.
Condiments and spreads: jam, jelly (including mint jelly), marmalade, mustard, horseradish, pickles (and other products containing pickles such as tartar sauce and dill pickle dip), and processed sauces.
Other processed foods: cereal (such as corn flakes, muesli, etc.), instant or "cube" soups), rice (like paella, risotto, etc.), noodles (such as some varieties of Kraft Dinner), pureed fruit and pickled peppers, bright-green-colored seaweed salad.
Personal care and cosmetics products
Liquid and bar soaps, green hand sanitizer, moisturizers and lotions, mouthwashes, perfumes, toothpaste, shampoos, conditioners, and other hair products.
Cosmetics, such as eyeshadow, blush, face powder and foundation, lipstick, etc. – even those that are primarily pink or purple. (Usually, make-up manufacturers use one label for all shades in a product line, placing the phrase "may contain" ahead of all colors that are used in that line, not necessarily that specific shade.)
Nail polish, nail polish remover, temporary tattoos, and tanning lotions.
Medications
Various types of medications include tartrazine to give a yellow, orange, or green hue to a liquid, capsule, pill, lotion, or gel, primarily for easy identification. Types of pharmaceutical products that may contain tartrazine include vitamins, antacids, cold medications (including cough drops and throat lozenges), lotions, and prescription drugs.
Other products, such as household cleaning products, paper plates, pet foods, crayons, inks for writing instruments, stamp dyes, face paints, envelope glues, and deodorants, may also contain tartrazine.
2. From Dry Ice to Orange Candies like Amul, Kwality Walls, Havemore, Baskins & Robbins – Aryan Chemicals Magic Color Sunset Yellow FCF (E-110) (Color Index Number – 15985)
Usage of ARYACOL BRAND Sunset Yellow in soft drinks, breadcrumbs, orange jelly, squash, citrus marmalade, lemon curd, Swiss roll, cheese sauce, hot chocolate, chips, red sauces, candy, preserved fruits, cereals, snack foods, baked goods, gelatins, beverages, dessert powders, crackers, and sauces.
3. From Whipped Cream to Red Velvet Cake like Delights, Betty Crackers, Fresho, Duncan Hines – Aryan Chemicals Magic Color Allura Red (E-129) (Color Index Number – 16035)
Usage of ARYACOL BRAND Allura Red in cereal, beverages, gelatins, puddings, dairy products, frozen treats, powder mixes, icings, jellies, spices, dressings, sauces, baked goods, and confections.
FD&C Red No. 40 is also used in pharmaceuticals and cosmetics.
4. From Gelatine to Capsules like Johnson & Johnson, Pfizer, GlaxoSmithKline, Dr. Reddy's – Aryan Chemicals Magic Color Brilliant Blue (E-133) (Color Index Number – 42090)
Usage of ARYACOL BRAND Brilliant Blue in processed foods, medications, dietary supplements, and cosmetics. adds a distinctive, bright blue hue to confections, beverages, cereals, frozen dairy desserts, popsicles, cakes and cupcakes, chewing gum, frostings, and icings. Extensively used as a water tracer agent
Brilliant Blue FCF is often found in cotton candy, ice cream, canned processed peas, packet soups, bottled food colorings, icings, ice pops, blueberry flavored products, children's medications, dairy products, sweets soft drinks, and drinks, especially the liqueur Blue Curaçao. It is also used in soaps, shampoos, mouthwash, and other hygiene and cosmetics applications.
5. From White Compound to Dark Chocolates like Vit n Rich, Cadbury, Kit Kat, Hershey's – Aryan Chemicals Magic Color Chocolate Brown HT (E-155) (Color Index Number – 20285)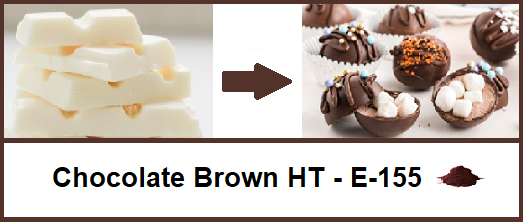 Usage of ARYACOL BRAND Chocolate Brown HT in chewing gum, confectionery including hard and soft candy, nougats, decorations, toppings (non-fruit), sweet sauces, dairy fats, and oil, meat, seafood, snacks, dry mixes and seasonings, fruit preparation, convenient food, flavors, and flavored fluid milk drinks.
Used to substitute cocoa or caramel as a colorant. It is used mainly in chocolate cakes, but also in milk and cheeses, yogurts, jams, fruit products, and fish.
6. From White hair to Black Hair using hair dyes like L'Oreal, Streax, Garnier – Aryan Chemicals Magic Color Carbon Black (Color Index Number – 77266)
Usage of ARYACOL BRAND Carbon Black includes
confectionery
bakery products
decorations
cheese coating
black caviar substitute
cosmetics
Pharmaceuticals.
7. From Normal to Unique PISTACHIO – Aryan Chemicals Magic Color Erythrosine (E-127) (Color Index Number – 45430)
Usage of ARYACOL BRAND ERYTHROSINE
 food coloring
 printing ink
 biological stain
 dental plaque disclosing agent
 radiopaque medium
 sensitizer for orthochromatic photographic films
 Visible light photo redox catalyst
commonly used in sweets such as some candies and popsicles, and even more widely used in cake decorating gels. It is also used to color pistachio shells. dietary supplements, confections, beverages, cereals, ice cream cones, frozen dairy desserts, popsicles, frostings and icings, baked goods, dried fruit, frozen breakfast foods, and processed foods (fish, meat, and egg products)
For More Details, Please Visit Our Website www.aryanchemicals.com
You can mail us at export@aryanchemicals.com or even call us on 91 7490988889